The Usage page in KAgent hosts detailed system and resource group usage statistics and metrics.
System
The System tab under the Usage page displays several system usage metric and statistics graphs as well as an Events Timeline.
Click one of the timeframe control buttons or select a date-time range to adjust the event timeline and the metric graphs to the selected duration
Adjust the

Ring

,

Cluster

, and/or

Node

drop-down menus to filter the graphs for the selected ring / cluster / node
Point the cursor to a graph to see the value at that time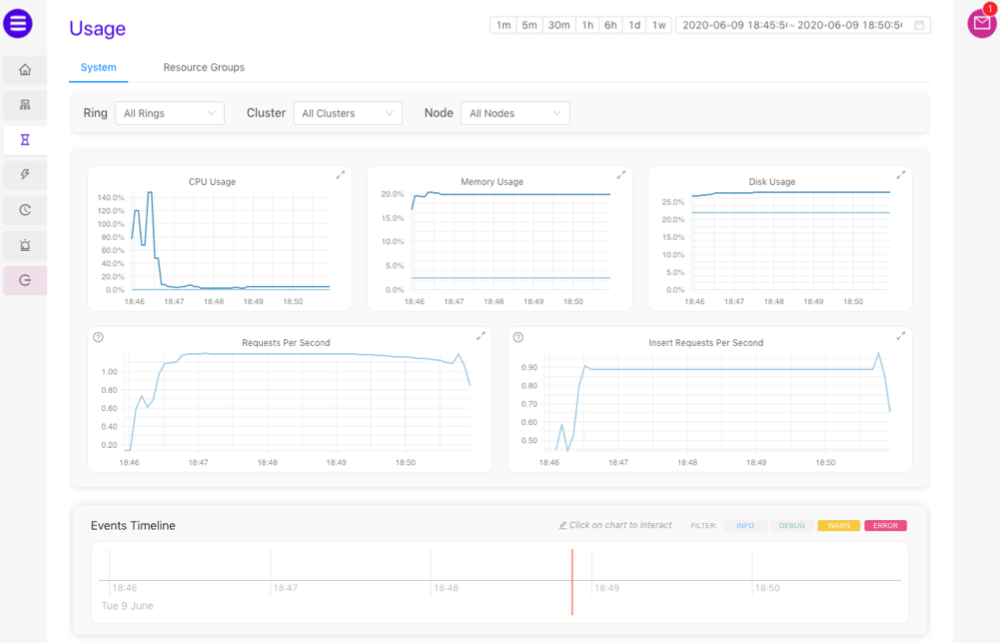 Events Timeline
The Events Timeline displays events that have occurred within the selected timeframe. A red cursor continuously moves through the timeline, denoting seconds as they pass. Events will appear along the timeline in real time.

First, click the Events Timeline, then:
Scroll to zoom in and out on the timeline

Click and drag left and right to move the timeline backward and forward respectively

Click an event dot to open detailed information, including the source of the event, the event code, the timestamp of the event, and more:
Resource Groups
The Resources Groups tab under the Usage page displays metrics and statistics graphs for select configured storage tiers as well as an Events Timeline.
Click one of the timeframe control buttons or select a date-time range to adjust the event timeline and the metric graphs to the selected duration
Adjust the

Ring

,

Cluster

, and/or

Node

drop-down menus to filter the graphs for the selected ring / cluster / node
Point the cursor to a graph to see the value at that time