The File Explorer can be used to manage directories & files in Kinetica File System (KiFS).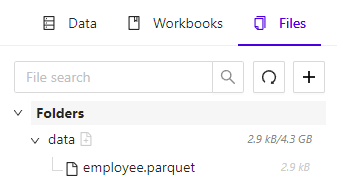 To access the File Explorer, in Workbench, click the Files tab of the left-hand navigation pane.
General Features
At the top of the File Explorer tab are several file/directory actions:
Search box - filter displayed files & directories, by name; directory matches will result in all files in that directory being displayed
Refresh icon - refresh the list of displayed files & directories

+

icon - create a new directory or upload a file
File List
The File Explorer displays a list of top-level directories and the set of files contained within them. Each file is shown with its relative path to its containing directory and its total size on disk. Each directory shows the cumulative size of all files contained within it.
Clicking on a directory will open a context menu with the following options:
Upload New File

- upload a file into this directory

Delete

- delete this directory and any files contained within it
Clicking on a file will open a context menu with the following options:
Download

- download a local copy of this file

Import

- open up the file import wizard for this file

Delete

- delete this file from KiFS

Multi-Select

- turn on multi-select mode and select this file, allowing for the deletion of multiple files at once