The Workbook Explorer can be used to manage Workbooks.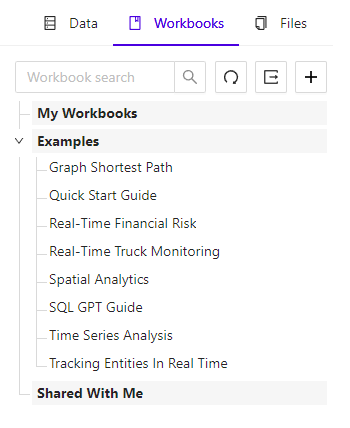 To access the Workbook Explorer, in Workbench, click the Workbooks tab of the left-hand navigation pane.
General Features
At the top of the Workbook Explorer tab are several workbook actions:
Search box - filters displayed workbooks, by name
Refresh icon - refreshes the list of displayed workbooks

+

icon - adds a new workbook
Workbook Lists
The Workbook Explorer has two lists of workbooks:
My Workbooks

- workbooks created by the current user

Shared With Me

- workbooks shared with the current user
Clicking on the name of any workbook will open it in the right-hand pane. If a workbook is open in the right-hand pane, is will be marked Open in the Workbook Explorer.